Electricians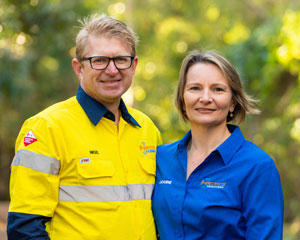 Director Nigel Phillips is a trade qualified electrician who saw an opportunity to do things better and founded a general electrical contracting business in 2004. In 2007 the Electrical Sensations brand was established. Nigel is passionate about doing things right – the first time. And when working with electricity, that's pretty important!
Nigel, Leanne and their team started installing solar power systems in 2008 with solar, batteries and energy efficiency projects now being their chosen area of specialisation. The Electrical Sensations mission is simply to "Save home and business owners money on their electricity bills without the fluff and high pressure sales routines"
The Electrical Sensations team is small, but fiercely dedicated and committed to delivering outstanding solar and electrical products, services and advice to Toowoomba and the Darling Downs. Taking the time to properly understand what the customer wants and needs, is pivotal to customer satisfaction and the success of Electrical Sensations.
In his spare time, you'll find Nigel designing Christmas light displays synchronised to music.